Our Equipment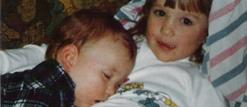 In order to give the best possible quality and service to our clients, we begin with baby safe, pet friendly, environmentally safe chemicals. Our truck mounted steam cleaning system heats the water to 230+ degrees sanitizing as we clean and drying in 1-3 hours. Our truck mounted water softener leaves your carpets feeling soft beneath your feet. The RX-20 rotary extractor makes over 650 cleaning passes per minute giving you the best possible clean.
A Few Words About Us
At A Fancy Floor, we understand your needs. We are a locally owned and operated family business that evolved because we were the consumer trying to find someone to take the same pride in the work they performed in our home as we would ourselves. We spent numerous weekends scrubbing our tile floors and renting carpet cleaning machines. Even with all the effort we put in, they were never truly clean. We checked on many services to come in and clean them, but the prices were astronomical! How was anyone to afford that?! There were some services that were cheep, but they were not insured, licensed, certified and so on. We never felt comfortable inviting someone into our home that could not be held accountable for their actions, especially when we had invested so much into our home. We pride ourselves on our work because we are your neighbor not a large company that views your home as just another stop on their route. We are not out to get rich off of one job, we would much rather give a great deal, produce great results, and have a repeat customer.
Reviews
Carpet
Thanks for the great job on our carpets! Also for the tip on how to remove furniture dents! Made my day to be able to do that! Thanks again!!!
~Holly H., Scottsdale
---
Tile & Grout Sealing
Friendly, professional service. We will use them next time we have our floors done.
~Paul B., Litchfield Park
---
Carpet
Service was great. I would not pay the extra money for the scotch guarding again.
~Kathy B., Scottsdale
---